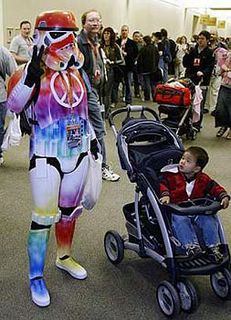 A Tie-Dyed Star Wars Storm-Trooper Dirty-Hippy Tree-Hugger?
Yeah, you guessed it. Gay.
Update:
Doc Kenny has never contacted me again. I did offer...
Ta-Daaaaa!
The all new Gay-List. Better than an A-List, and with less homos in it. (Just kidding to all you homos!)
(Please note that this is a continuation of the previous post).
Like ta hear 'em? Here we go!
10. Pomeranians. They are cute, but still gay.
9.
Hybrid cars. Totally gay. (Just ask Dr. Kenny!!)
8. John Kerry. Just listen to him. Look at him. Good Lord,
look at his college picture
. Gay.
7. John Edwards. Holy crap! Even the lefties can't deny that! Way gay.
6. IPOD's. Sorry, I guess I'm just old fashioned. MP3's should be on computers with surround sound, not little gay mint-boxes. (Are desktops with surround-sound old-fashioned?)
5.Any song by
Wham.
I guess that's not news, is it? Mondo gay. (Warning: Totally gay picture attatched to link!!! If people see you looking at it, they will laugh at you. Work-safe, however.)
4. People that want to try G.W. Bush for war crimes, but want to let that nice man Sadaam go.
Unparalled gayness.
3. Lifetime movies. Nuff said.
2. The Oxygen Channel. Gayness incarnate.
and the number one entry (for this week) on the Gay-List,
1. Liberals who think anyone who's not liberal must be racist, bigoted, gun-toting, hate-filled homophobes that are total Jesus freaks. (They can bite me.)
Well, I am kinda gun-toting...
Word.
CUG